Tuesday, 05 February 2019 05:29
Spirit of Pinkathon - Mysuru2Bengaluru with VI Runners
Written by Sukla Chinnappa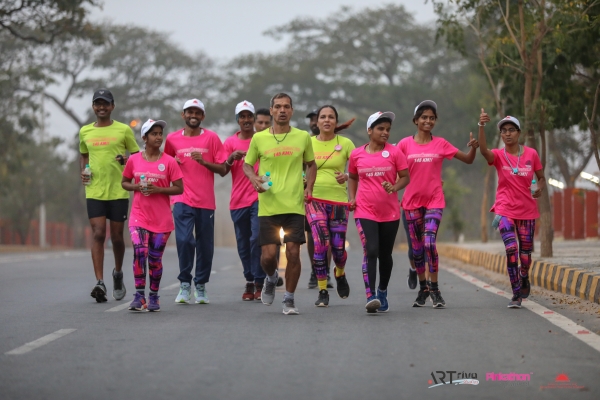 Her Highness, Rajmata Pramoda Devi Wadiyar flagged off the run at the iconic Balarama Jayarama Gateway of the Mysuru Palace. Three days, 145 kms, six sighted guides running with six blind runners onward to Bengaluru. This is a historic run and an inspiring for the running community where visually impaired athletes Mala Kolkar, Renuka Rajput, Sunitha N.D, Kavya N, Nandeesha Janardan and Ajay Eranna along with their guide runners Venkatesh N, Bhadresh S, Bhumika Patel, Nandish Kumar, Rajesh N V and Sachin Tiptur ran the 145 kms Spirit of Pinkathon run from Mysuru to Bengaluru, over 3 days from 23rd to 25th of January 2019. It is also a notable fact that most of the guides too were attempting their first Ultra Marathon
This run celebrates the spirit of health and well-being in the face of all obstacles. The idea was suggested by Head Coach of Samarthanam Trust for the Disabled Bhumika Patel after the VI runners made a record of becoming India's first visually impaired athletes' team to complete full marathon at a timed event.
I had the wonderful opportunity to cover the whole event (had earlier had the opportunity to 
Note : Visit the Flickr Album to view all the images captured (only select photos from 3 days of the event are displayed below)
Mentions of the Event in the media
See attached video for coverage on DD Chandana
Latest from Sukla Chinnappa
Media
Media coverage of the run on DD Chandana (The Kannada language channel of the national broadcaster Doordarshan)
Doordarshan - Chandana
1

comment
Comment Link

Friday, 22 November 2019 12:33

posted by Ruby

I don't even know how I ended up here, but I thought this
post was great. I don't know who you are but definitely you are going
to a famous blogger if you aren't already ;) Cheers!
Leave a comment
Make sure you enter all the required information, indicated by an asterisk (*). HTML code is not allowed.