Displaying items by tag: JGRV
Saturday, 03 March 2018 22:25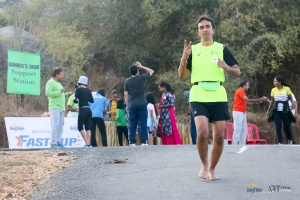 Bangalore Runners Unity Run – BRUR, is a FUN RUN event by the runners, for the runners, hosted by the running community of #NammaBengaluru to celebrate the passion and joy of running with their family and friends in a scenic location of #NammaBengaluru.
No timing chips, no podiums, no medals, just pure joy of running to your heart's content with your friends and family !
I've been running at this event for 2 years and had initially planned to take my family to this run (especially my little one). Was a little sad as i would be missing it this year with my wife Shilpa having taking up classes for a banking exam and me left to baby sit. A last minute call for volunteers by fellow Runner ShivaG had me there in the morning (mom was back from a short travel and requested her to take care of Sauhard so that I could go to BRUR) ... 
The Runs organised by the Running groups of Bangalore are any-day much for fun and well managed than the "Big Runs" and are an excellent opportunity to introduce your kids, family or friends to the joyful crazy world of running.
you need to see these photos to see what a fun filled event this is ...
Saturday, 02 December 2017 03:45
Photos from the 2017 Edition of JGRV run